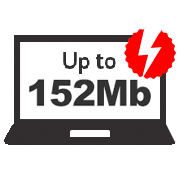 What you get with up to 152Mb broadband
A fast and seamless experience for the whole household. Connect all your computers, smartphones, tablets and games consoles to one secure, superfast home network.
Up to 152Mb is 16 times faster than regular broadbandº, allowing you to download an entire music album in just four seconds, a TV show in 20 seconds and a movie in under two minutes.
We've boosted you up to 152Mb!
We've been busy upgrading our fibre optic network around the country so that you can enjoy superfast up to 152Mb broadband, the UK's fastest ever widely available broadband#.