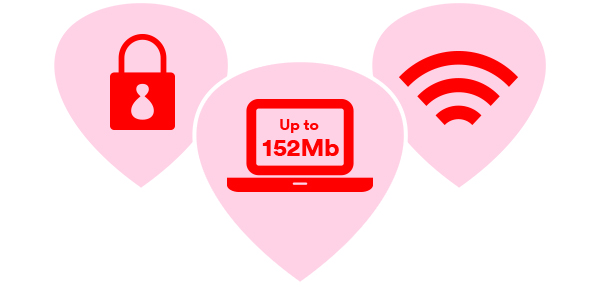 Get up to speed with our fastest ever WiFi
WiFi is one of those weird things that you can't see, but you know it's there reliably floating about making all your connections happen and keeping you happily online… until something happens in the ether and snap – it's gone. However, with our ultrafast WiFi, you can be sure of a great connection whenever you want it.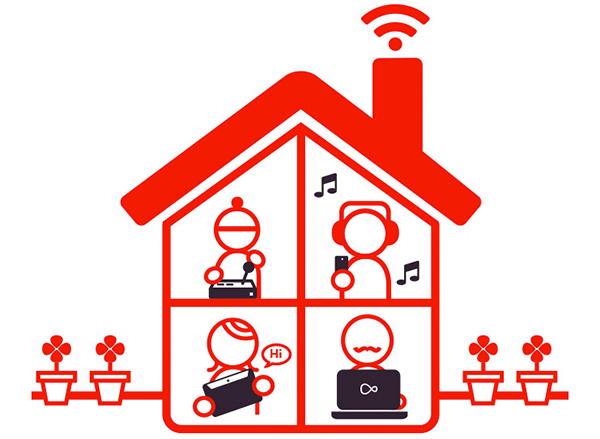 Our WiFi in your home
Getting WiFi, or 'going wireless' in your home is easy. All you need is our amazing Super Hub. Then everyone can connect at the same time using one fast, secure broadband connection – in different rooms and on all sorts of devices.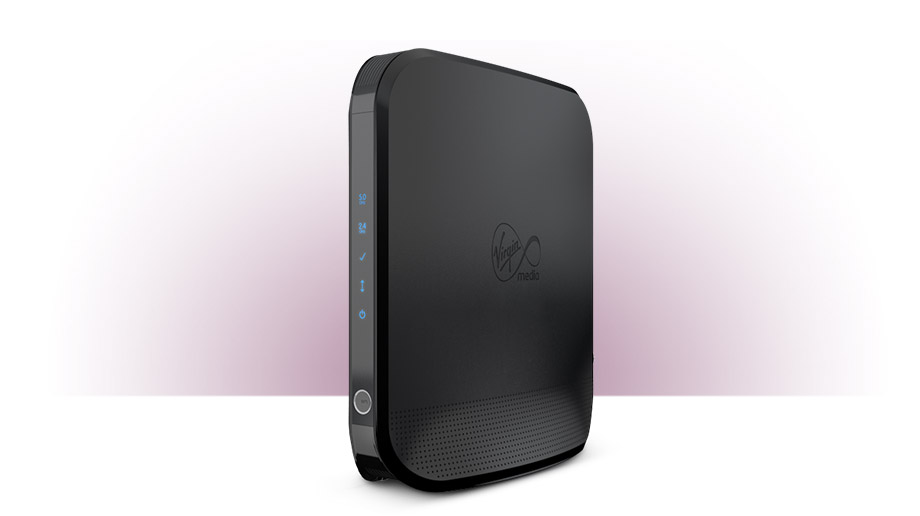 Super Hub speed, signal and security
Our Super Hub gives ultrafast WiFi speeds that stay fast across loads of devices because it uses 5GHz and 2.4GHz at the same time, and has a sneaky extra wireless antenna. Team this with our up to 152Mb broadband and you can reach chronic WiFi speeds around your home.
What's more, you can be assured you're all safe online with latest wireless encryption technology, Web Safe, F Secure SAFE™ and parental controls.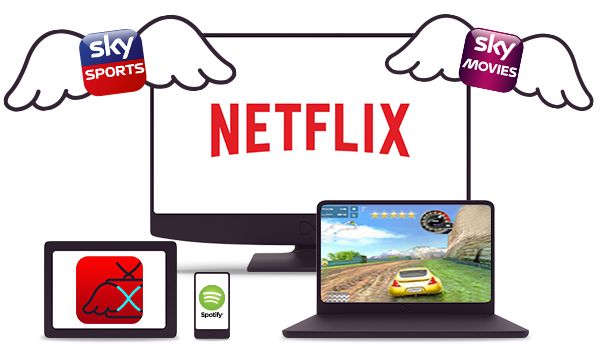 Great stuff – but what can I do with it…?
Absolutely anything you like! Stuck for ideas? How about these for starters… get loads of mates round for a downloaded movie marathon, stream kitten videos off YouTube, check your Facebook in the bath, shop on the sofa, search for recipes in the kitchen and even print pictures downstairs from the loo!
Here's the technical bit
Full DOCSIS 3.0 cable modem functionality (also fully compatible with DOCSIS 1.0, 1.1, 2.0)
Eight bonded downstreams
Four bonded upstreams
Four ethernet 10/100/1000BaseT ports
Wireless b, g, n capable in 2.4GHz band plus wireless a, n & ac in 5GHz band (Dual-concurrent frequencies)
Five internal antennas
Up to three spatial streams in the 5GHz band
Supports WEP/WPA/WPA2 wireless security encryption
Supports WPS push button synchronisation
Built-in router, DHCP and firewall which can be customised and deactivated
Virgin Media customised housing
External power supply (12v 1.5A)
Dimensions: 215 x 70 x 195mm (8.5 x 2.75 x 7.5in)
---
The proof is in the pudding (but these tables make more sense)
Best for streaming
Psst...We're the best for streaming!
To deliver a great level of streaming performance, you need three things from a network:
Fast peak time speeds
A low level of delay in delivering the streaming data across your network (latency)
A low amount of data dropped or lost while it goes across your network (packet loss)

And, what's more, the latest set of Ofcom testing (from November 2014) and tests carried out by Farncombe Technology Ltd (October to November 2014) shows that Virgin Media's up to 152Mb broadband service is proven to have the fastest peak time speeds, plus low peak time levels of latency and low peak time levels of packet loss. This means that Virgin Media's up to 152Mb service is the best for streaming, when compared to BT, Plusnet and Sky. Pretty awesome, right? Take a look at Ofcom's results in the table below, and you'll see why we're cheering.
To make sure you can stream to your heart's content around your home, Virgin Media's new Super Hub, has been proven to be the fastest WiFi device compared to latest router offered by BT, Sky, and TalkTalk. Take a look at how the independent testing was conducted and the results.
Ofcom test results November 2014
Download speed (Mb)
8-10pm weekday

Latency (in milliseconds)
8-10pm weekday

Packet loss (%)
8-10pm weekday

All data above comes from Ofcom's fixed-line broadband performance bi-annual report published in February 2015. For the full report click here.
Our typical broadband download speeds for August 2015
Broadband speed


Average speed at peak times
(8pm-10pm)


Average speed
over 24hrs

Ofcom's reported peak times for BT's regular broadband

Ofcom's reported peak times for Sky's regular broadband

The number of times that Virgin Media is faster at peak (on average)

Source: Virgin Media Broadband Performance Panel powered by SamKnows, the broadband performance monitoring specialists. Typical speeds are recorded with a standard ethernet cable. BT and Sky's Regular Broadband (ADSL2+ over 10Mb, excludes fibre products) peak download speed data comes from Ofcom's review of UK broadband speeds published in February 2015, based on Ofcom November 2014 test results.
Where do the speed stats come from?

The data comes from a broadband measurement panel made up of real Virgin Media customers spread out across our network. Powered by SamKnows, the broadband performance monitoring specialists, we run millions of tests per month to understand how our broadband is performing.
Ofcom's twice yearly review of UK broadband speeds is also carried out by SamKnows. Our testing mirrors the methodology used in Ofcom's review and can be found within section 2 of the annex here.
Why do you say 'up to' about speeds?

We use the phrase 'up to' because download speeds are affected by things beyond our control. For example, the website you're on, the number of people online, or your computer's specifications. With Virgin Media, you'll get much closer to the broadband speed you pay for.
Average download speeds – Ofcom speed test results November 2014
24 Hours


8-10pm Weekdays


All average download speed data above comes from Ofcom's review of UK broadband speeds published in February 2015, based on Ofcom November 2014 test results. Speeds tested over a 24 hour period through a wired connection for one PC. Customers may experience slower speeds when multiple devices are connected or when using broadband wirelessly..

Get ready though – new supercharged speeds coming soon!
Comparison of net satisfaction with broadband reliability scores
Super reliable fibre - here's the legal bit!

Virgin Media can claim to have "super reliable fibre", based on the results of an independent Gfk customer survey, full details of which are below.
Question:
"Now we'd like to explore what you think of [Supplier] Broadband in a bit more detail.
The reliability of your broadband service
0-Extremely dissatisfied / 1 2 3 4 5-Neutral 6 7 8 9 10-Extremely satisfied / Don't know"
The scores are split into categories of detractors (0-6), passives (7-8) or promoters (9-10) and a 'Net Satisfaction Score' is determined as the percentage of respondents who are 'promoters' minus the percentage that are 'detractors'.
The results:
Virgin Media scored +26% for Net Satisfaction with Broadband Reliability - compared to BT & Plusnet combined at +16%; Sky +13%; Orange broadband +10%; TalkTalk +4%. This means Virgin Media Net Satisfaction with broadband reliability is significantly higher than all of those competitor scores (at 95% confidence).
For Virgin Media, there were:
23% detractors (0 to 6 score )
29% passives (7 to 8)
48% promoters (9 to 10)
resulting in the net satisfaction score of +26%
AND
for BT & Plusnet combined, there were:
28% detractors (0 to 6)
29% passives (7 to 8)
44% promoters (9 to 10)
resulting in the net satisfaction score of +16%
How we compared:
The results for Virgin Media (+26%) and BT & Plusnet combined (+16%) are significantly different at 95% confidence level, indicating Virgin Media are scored higher for net satisfaction with broadband reliability compared to BT & Plusnet.
We have the evidence that Virgin Media are better than BT & Plusnet combined, Sky, Orange and TalkTalk for net satisfaction with broadband reliability.
---
Q4 2014

Q3 2014

H2 2014

* Significantly different at 95% level

Source: GfK survey Survey responses were collected in Q3 and Q4 2014 for this particular claim. Responses to the reliability question in Q3-14 & Q4-14 combined - there were 2,560 BT & Plusnet respondents (2,091 BT, 469 Plusnet); 1,339 Sky respondents; 1,242 TalkTalk respondents; 509 Orange broadband respondents and 3,235 Virgin Media respondents from surveys collected.
---
The legal stuff
Service availability: SERVICES AVAILABLE IN VIRGIN MEDIA CABLED STREETS ONLY. Subject to survey, capacity and credit check, minimum term contract applies, check basket for details. If you cancel during the minimum contract period you will incur an early disconnection fee.
Installation: Installation charges apply (starting from £49.95 for standard install).
Payment: Offers require you to pay by Direct Debit and use eBilling. If you prefer not to pay by Direct Debit, you will incur a monthly payment handling fee of up to £5, made payable to Virgin Media Payments Ltd. If you would like paper bills, the fee is £1.75 a month for cable and £1.50 a month for mobile. Payment may be required in advance. Your first bill includes the charge for the month you join (from the day you join), plus one month in advance. All prices include VAT. Calls may be monitored. Further terms and conditions apply. See sections below for more Legal Stuff.
Mobile SIM: View terms and conditions
**Please note standard charges apply, please check with your network operator for rates.
Calls to service numbers:The way you're charged for calling numbers beginning 084, 087, 118 and 09 has changed. The cost of calling these numbers will be formed of a combined access and service charge: we set the access charge and the company you're phoning set the service charge. Your access charge for these numbers will be shown on your bill and is currently 10.25p per minute from a landline and 36p per minute from a mobile. The service charge will be advertised by the company that you are calling. If any of these numbers are included in your bundle you will not be charged the access or service charge.
Calls to other non-geographic numbers: Freephone calls starting 0800 or 0808 are now free from mobiles. Calls to 0500 are free. Calls to 070 numbers will cost you up to £2.50 a minute in the UK.