Super Hub test
Our new Super Hub is our fastest wireless router.
---
To make sure we deliver the best connected experience for our customers, we've been working with Farncombe Technology Ltd. They put the new Super Hub through its paces and tested it against the competition.
Farncombe's testers put our new Super Hub, BT's new Home Hub 4 and hubs from Sky and TalkTalk through some empirical in-home testing where our new Super Hub proved to be the fastest WiFi device provided by the UK's ISPs by at least 30%.
The home the testing was done in looked like this: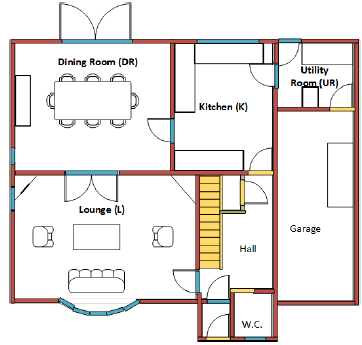 ---
Our new Super Hub comes with the latest dual-band concurrent technology.
Most routers use the 2.4GHz channel to send and receive data, but sometimes their signal suffers because other electrical devices in your home (like cordless phones, microwaves and baby monitors) share the same channel.

The new Super Hub works on the 2.4GHz frequency and the 5GHz frequency, so even if you've got lots of other devices in your home, it's still possible to enjoy superfast surfing.

To see how the new Super Hub stacks up, Farncombe Technology Ltd tested how it performs when downloading against hubs from other providers across different locations in the home and, if you'll excuse the pun, testing doesn't get more testing than this.
The average download rate across the different locations within the home in testing was as follows:
Average download
speed (Mbps)

Average download
speed (Mbps)

New Super Hub
is faster by (%)


New Super Hub
is faster by (%)

2.4GHz
(default mode)

5GHz
(default mode)

2.4GHz
(default mode)

5GHz
(default mode)

New Super Hub average

80.8Mbps

128.9Mbps

-


-


BT Home Hub 4 average

62.0Mbps

75.7Mbps

30%

70%

Sky Hub average

52.5Mbps

No 5GHz mode

54%

No 5GHz mode

TalkTalk Hub average

44.3Mbps

No 5GHz mode

82%

No 5GHz mode

Empirical testing undertaken by Farncombe Technology Ltd, May / June / July 2013. Hubs tested from Sky and TalkTalk can only transmit in the 2.4GHz band and hence cannot be tested for 5GHz performance. Testing done across multiple ranges using specially built Windows 7 testing environments and file sizes optimised for download speed. Default channel bandwidth for 2.4GHz was HT20 and for 5GHz was HT40.
---
To find out more about 2.4GHz mode and 5GHz mode, have a look here or see the film below:
Wireless performance isn't just affected by the Hub or router itself, it also depends on the users' equipment and the home environment (building materials, furniture etc).

For more information on how to optimise wireless within your home to get the best performance, have a look at how to Stay Fast.
The legal stuff
Service availability: SERVICES AVAILABLE IN VIRGIN MEDIA CABLED STREETS ONLY. Subject to survey, capacity and credit check, minimum term contract applies, check basket for details. If you cancel during the minimum contract period you will incur an early disconnection fee.
Installation: Installation charges apply (starting from £49.95 for standard install).
Payment: Offers require you to pay by Direct Debit and use eBilling. If you prefer not to pay by Direct Debit, you will incur a monthly payment handling fee of up to £5, made payable to Virgin Media Payments Ltd. If you would like paper bills, the fee is £1.75 a month for cable and £1.50 a month for mobile. Payment may be required in advance. Your first bill includes the charge for the month you join (from the day you join), plus one month in advance. All prices include VAT. Calls may be monitored. Further terms and conditions apply. See sections below for more Legal Stuff.
Mobile SIM: View terms and conditions
**Please note standard charges apply, please check with your network operator for rates.
Calls to service numbers:The way you're charged for calling numbers beginning 084, 087, 118 and 09 has changed. The cost of calling these numbers will be formed of a combined access and service charge: we set the access charge and the company you're phoning set the service charge. Your access charge for these numbers will be shown on your bill and is currently 10.25p per minute from a landline and 36p per minute from a mobile. The service charge will be advertised by the company that you are calling. If any of these numbers are included in your bundle you will not be charged the access or service charge.
Calls to other non-geographic numbers: Freephone calls starting 0800 or 0808 are now free from mobiles. Calls to 0500 are free. Calls to 070 numbers will cost you up to £2.50 a minute in the UK.