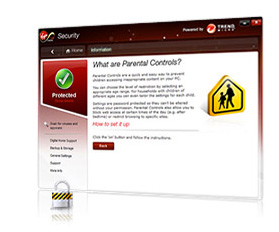 Virgin Media Security
If you're a Virgin Media customer, you don't need to buy parental controls software because it's included in our Virgin Media Security product.
Virgin Media Security lets you filter and block more than 550 million websites based on how suitable they are to your child, and it constantly updates to stop any unsuitable sites slipping through the net.
Using the software is easy. Firstly, you will need to create a Windows User Account for each person in your home. This will then be used to configure Virgin Media Security to fit the age of your children. You might choose a more relaxed profile for your older child, for example. And unlike other software on the market, you can set up a profile with no restrictions for the adults in the house (so you can still enjoy that Schwarzenegger flick once the kids have gone to bed.)
You can also stop your kids using the web at certain times (perhaps when it's past their bedtime) or specific sites (like Facebook and YouTube) when they're meant to be doing their homework.
Check out our help videos to find out just how ways it is to do all of this....
Protecting your family online: Setting up a Windows User Account to use with Parental Controls
Protecting your family online: Configuring Parental Controls
It is important to remember that Parental Controls need to be set up on each individual PC in the home and that for Parental Controls to be truly effective, each user will need to log into each PC using their own Windows User Account and password.