Why go SIM only?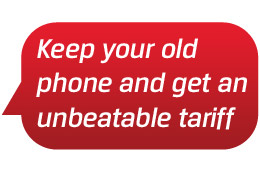 SIM only gives you the choice of a Pay As You Go or Pay Monthly tariff, but you get to keep your old phone. And because you're not paying for a new phone, you get an unbelievably good deal.
Pay As You Go – SIM only
Pick from our two great tariffs below. Once you've got your new SIM, all you have to do is top up at least £10 a month. And if you're a Virgin Media customer, we'll also throw in unlimited calls to Virgin Mobiles when you top up £10 a month.
(And, in case you're wondering, we offer SIMs, micro SIMs and nano SIMs!)