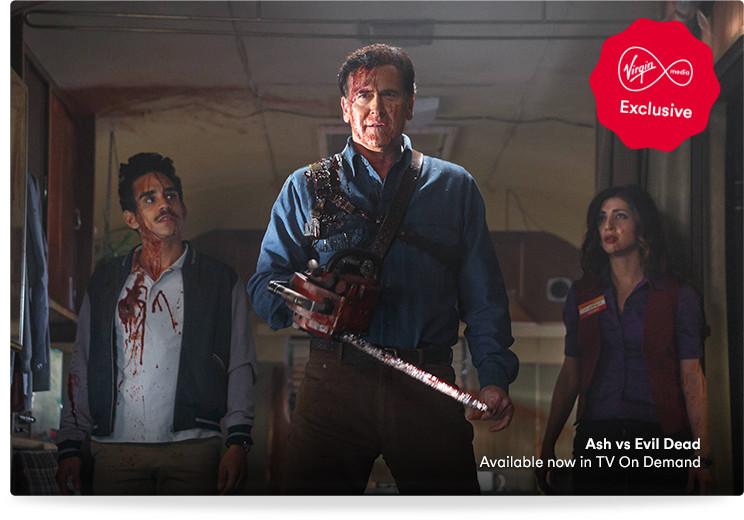 Virgin TV On Demand & Catch Up
With Netflix on the Virgin Media: TiVo® Service, we've got loads of movies and TV shows on demand. So, you can tuck into thousands of hours of popular shows, full Box Sets, movies and music, whenever you like.
Plus, using our On Demand service won't interrupt anyone streaming something different at the same time – your TiVo box has its own dedicated 10Mbps internet connection.

Shows you love, when you want them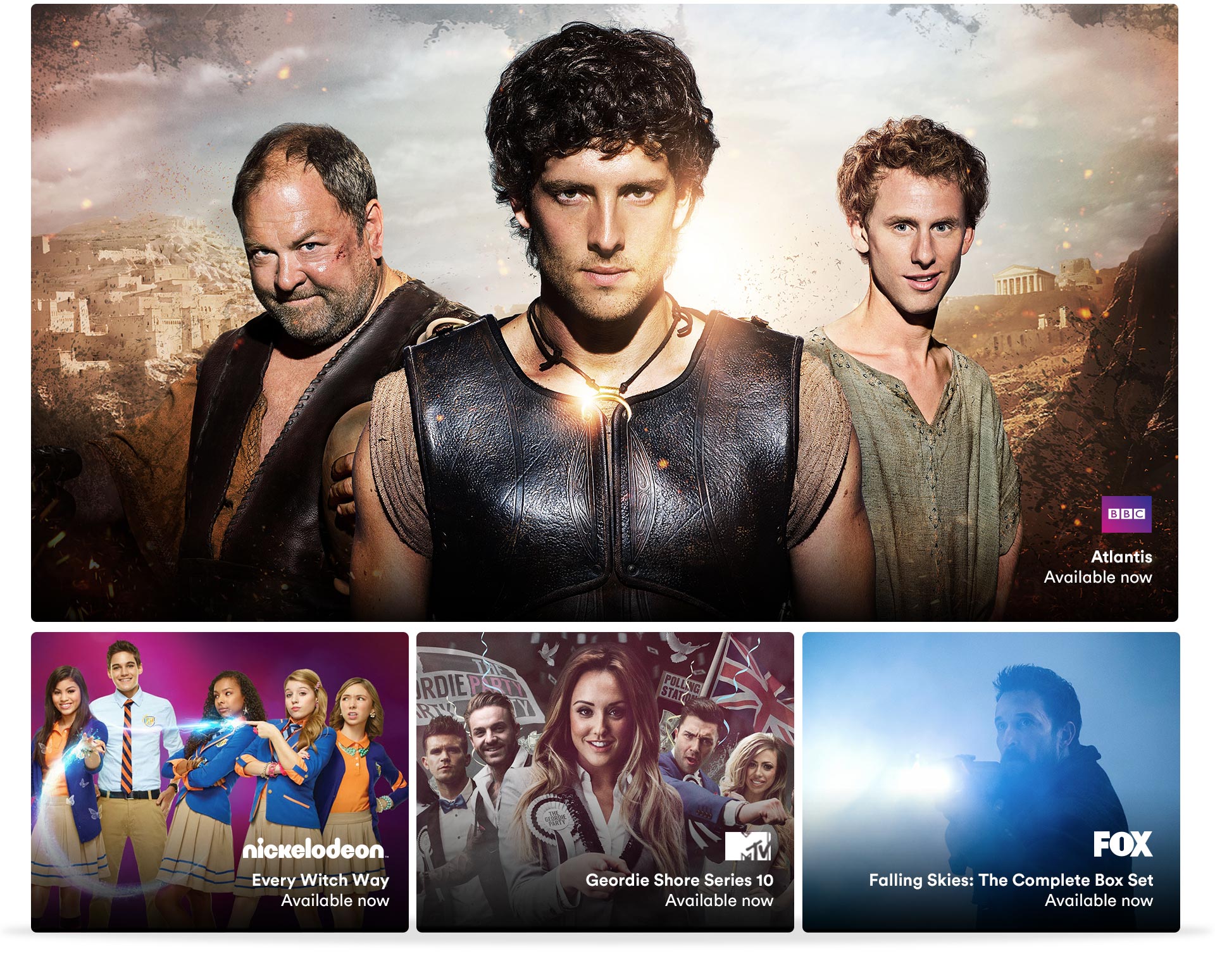 ---
Only our TiVo box has its own dedicated internet connection, so it's not sharing the connection the rest of your household needs. No more buffering blues – just hit play.

---
---
---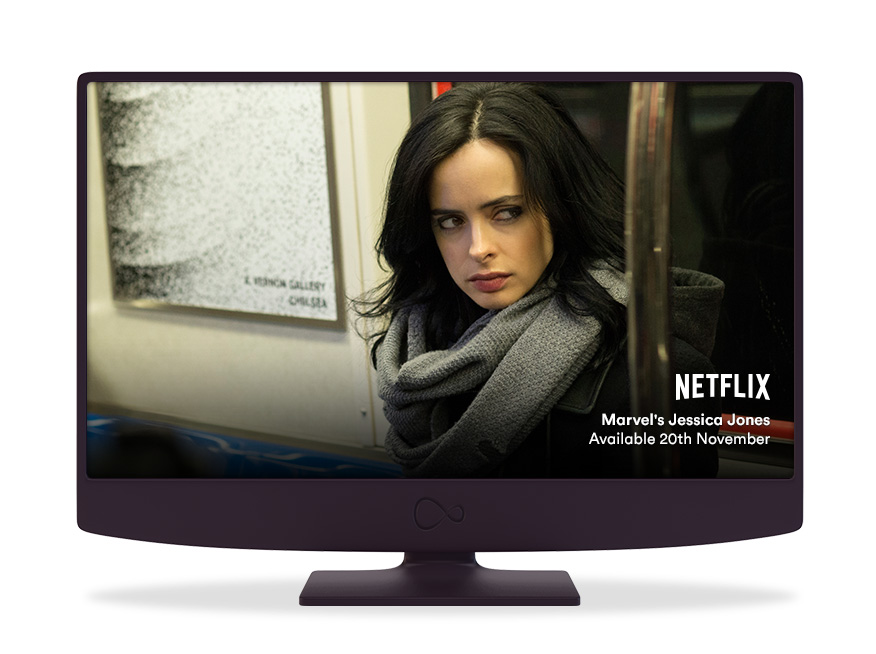 Better for Box Sets
With Netflix on your TiVo box, we've loads of movies and TV Box Sets on demand.
Catch the stuff everyone's talking about with original dramas like Orange is the New Black
hilarious sitcoms like Unbreakable Kimmy Schmidt
and gripping films like Beast of No Nation



---
---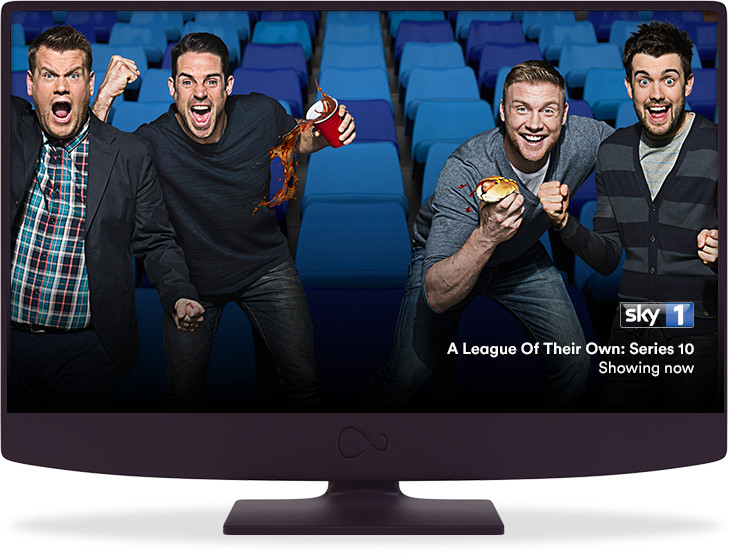 Brilliant Sky On Demand shows for Virgin TV customers

You don't need Sky to watch much-loved Sky channels. With our On Demand service, you can take your pick from hundreds of hours of brilliant Sky shows from a great range of channels.
Our current favourites are...
A League Of Their Own: Series 10
Stan Lee's Lucky Man

The place to watch the latest movie releases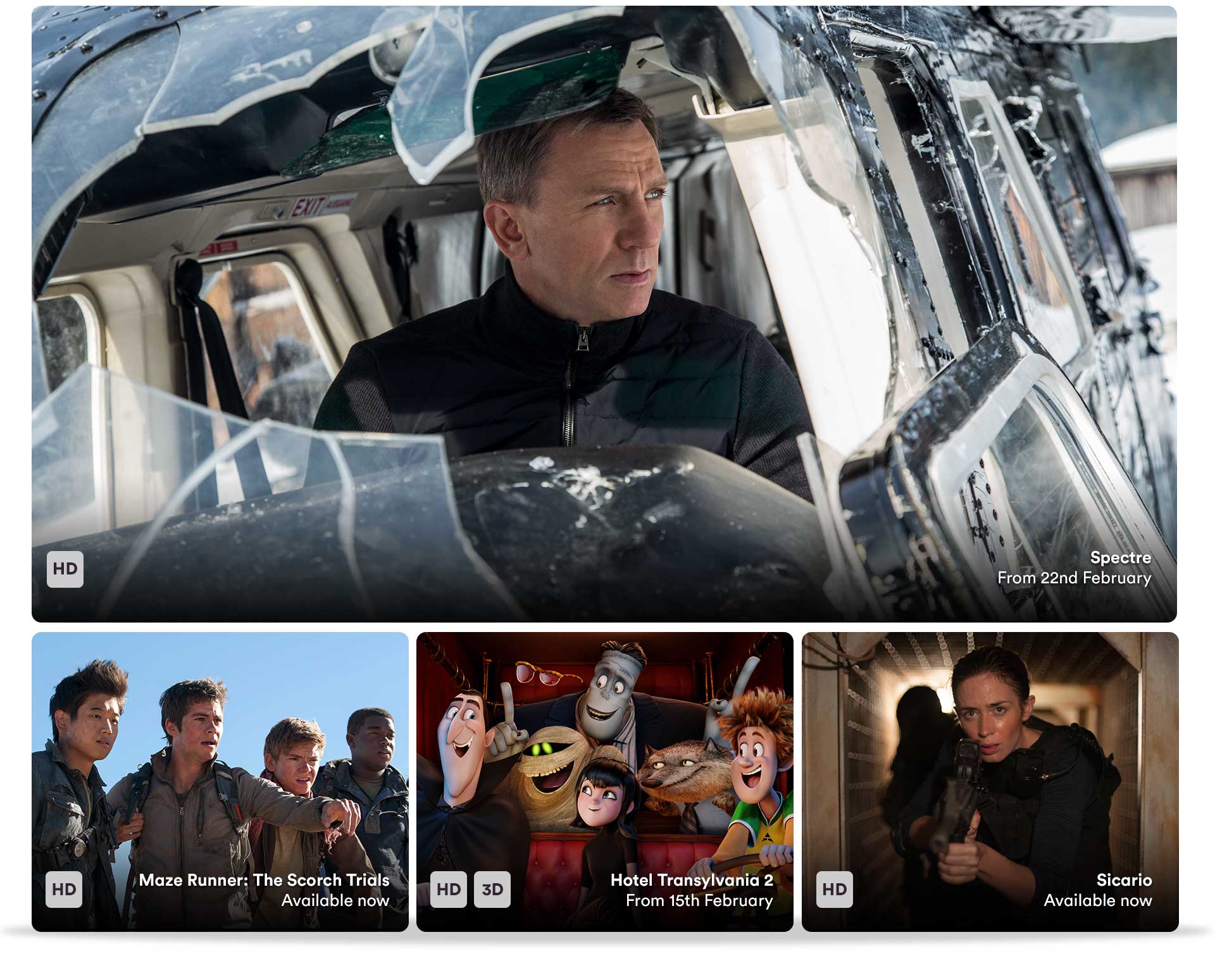 Grab the popcorn and get cosy for the cinema experience at home.
Access Virgin Movies through your TiVo box to enjoy the latest releases from just £3.99. Loads of our films are available in HD and 3D, with most available on the same day as their DVD release. Some even arrive the same day they come out at the cinema!

Our top picks available now are...
Straight Outta Compton
Legend
Everest
No Escape

---
---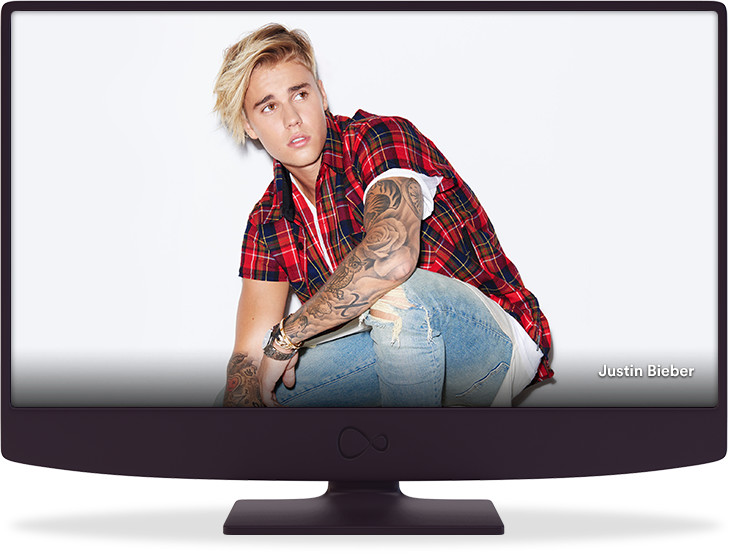 Music to your ears, whenever

You're the DJ with Music On Demand.
Thanks to our VEVO app, you can shuffle through more than 250,000+ music videos from more than 20,000 incredible artists, straight from your TiVo box. Come and join the VIP club.

Never miss a show with TV Catch Up
Missed out? Watch it on Catch Up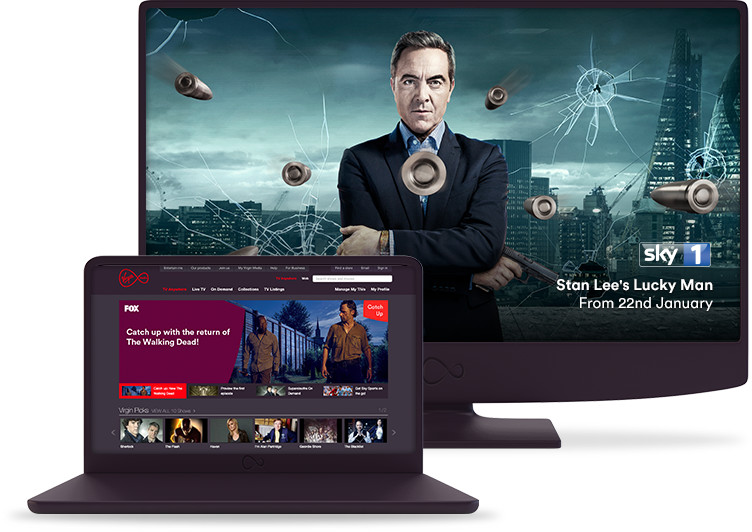 Catch Up on your favourite shows

No one likes to miss their favourite show. But with our Catch Up service, you don't have to go off the grid to avoid spoilers.
Search by channel, day or genre, and if you have a TiVo box you can even go backwards through your TV Guide.
You've also got all the standard catch up players you like, including BBC iPlayer, ITV, All 4 and Sky On Demand.


Compare TV packages
Grab one of our TV packages and dive straight in
TV M+ package with TiVo® from
£10 a month
for 6 months
then £15.00 a month
+ Virgin Phone line for £17.99 a month
12 month contract
£9.99 activation fee applies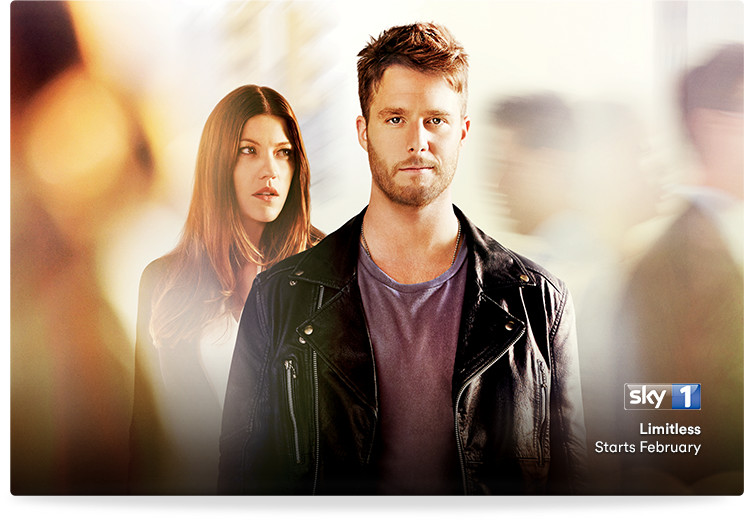 TV packages
as part of a Big Bundle
Enjoy TV and superfast broadband with a great value Big Bundle.

Big Easy from
£10 a month
for 9 months
then £24 a month
+ Virgin Phone line for £17.99 a month
12 month contract
£9.99 activation fee applies
---
---
SPECTRE © 2015 Danjaq, MGM, CPII. SPECTRE, 007 Gun Logo and related James Bond Trademarks © 1962-2016 Danjaq and United Artists. SPECTRE, 007 Gun Logo and related James Bond Trademarks are trademarks of Danjaq. All Rights Reserved.
Maze Runner: The Scorch Trials © 2016 Twentieth Century Fox Home Entertainment LLC. All rights reserved.
Hotel Transylvania 2 © 2015 Sony Pictures Animation Inc., LSC Film Corporation and MRC II Distribution Company L.P. All Rights Reserved.
Sicario © 2015 Sicario Movie, LLC and Lions Gate Films Inc. All Rights Reserved. © 2016 Lionsgate Home Entertainment UK. All Rights Reserved.
Stan Lee's Lucky Man © 2015 Carnival Film & Television Ltd
Limitless © 2015 CBS Broadcasting Inc. All Rights Reserved.
The legal stuff
Prices may change at any time during the contract.
Service availability: SERVICES AVAILABLE IN VIRGIN MEDIA CABLED STREETS ONLY. Subject to survey, capacity and credit check, minimum term contract applies, check basket for details. If you cancel during the minimum contract period you will incur an early disconnection fee.
Installation: Installation charges apply (starting from £40 for standard install).
Activation Fee: There is an activation fee of £9.99.
Payment: If you prefer not to pay by Direct Debit, you will incur a monthly payment handling fee of up to £5, made payable to Virgin Media Payments Ltd. If you would like paper bills, the fee is £1.75 a month for cable and £1.50 a month for mobile. Further terms and conditions apply. See sections below for more Legal Stuff.
**Please note standard charges apply, please check with your network operator for rates.
***For details about how much it costs to call our team from a Virgin Media home phone, visit virginmedia.com/callcosts. Call costs from other networks and mobiles vary.