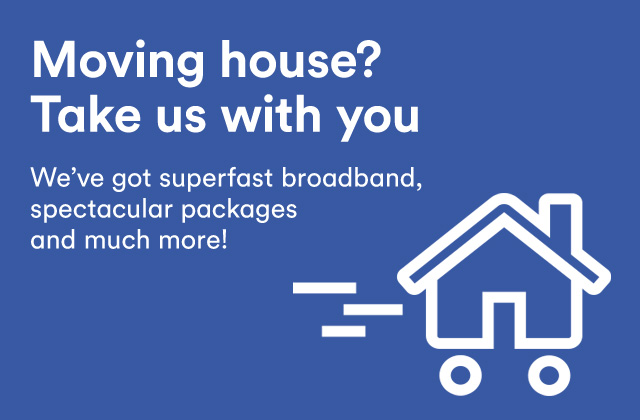 Fibre optic broadband, TV & home phone bundles from Virgin Media
Three great reasons to stick with us!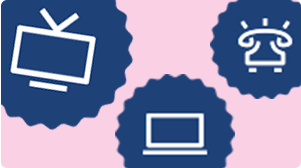 1. The best value packages available for you
When you move, we'll review your services and let you know which of our awesome offers might suit you best. We offer the broadest range of access to content in the UK and if we can save you money, we will!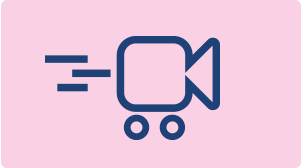 2. Keep your recordings & email address
If you've got Virgin TV, everything you've recorded moves with you too. Nothing will be lost in transit. Which means you can catch up on Corrie while you unpack. Your email address moves with you too, so you'll never be out of the loop. Easy.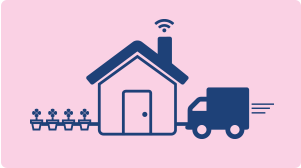 3. Free installation
Our friendly technicians are here to help and will install everything at once, absolutely free (normally £49.95). Yup – we won't charge a penny. Simply pack up your stuff, take it with you and we'll do the rest.
---
Moving? We can come too! Here's your simple 4 step guide

---

---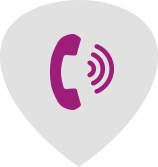 First of all, we're delighted you want to stick with us. Moving home can be a stressful time, so we'll take care of your Virgin Media services while you get on with packing. Here's a quick summary of what you need to do first:
Just call our team for free on 150 from your Virgin Media home phone or mobile and select option 5. Or call 0845 141 0111ˇ from any other phone. Make sure you have the following details handy:
Your old address
Your new address
Your moving date
Your account number (you'll find this on your bill)
Don't forget, the earlier you tell us you're moving, the more likely we can get you your preferred installation day. Just give us a shout around six weeks before you move.
I've got questions!
Can I take my services to my new address?
Our superfast fibre optic broadband covers more places than you might think. But if you're worried feel free to head to our postcode checker (which is across the site) and find out.
Is moving my Virgin Media services difficult?
Nope! We'll transfer your email address, billing and other details over to your new account and send out one of our technicians to install your services free of charge.
Will I have to sign a new contract?
Yes, but that's good news because you can take advantage of our latest offers.
What if I'm moving to a temporary address?
No problem. Just give one of our Movers Advisors a call on 0845 141 0111ˇ and they'll be able to help. What happens to my Direct Debit details, eBilling registration and My Virgin Media account? Relax, they all stay the same.
Can I keep my phone number?
If you're not moving far, it shouldn't be a problem. If you're worried just give us a call on 0845 141 0111ˇ and select option 1.
Can I keep my email address and web space?
Yes, of course. We'll transfer both over to your new account on the day you move.
---

---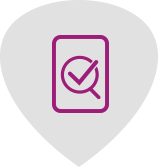 Check out our handy Movers Checklist. Print it, stick it to your fridge and follow our steps to a stress-free move. Aren't we nice, eh?
Also don't forget, we'll be popping your new contract in the post to the address you've given us (your new one usually, but possibly your old one if you give us enough notice). So make sure you're happy with everything, sign and send it back to us.
---

---
All you need to do is pack up any kit you're taking with you (TiVo or V HD Box Super Hub, phones – that sort of thing). Our technician will swap your box if you're upgrading, collect any kit you no longer need, and get everything connected in your new pad.
To save time on the day firstly make sure you know where your kit is. Then have a think about where you'd like your kit set up. Then just make sure your TV, computer and phone are all in good working order.
Here's to a really smooth move
I've got questions!
Can I move the same day?
Unfortunately, your old home and new home can't be active on the same day. But we can disconnect your old home on the day before you move or install your new services the day after. Just let us know. You can use your services in your old home until midday on your disconnection day.
Do I need a technician to install my services?
Yes. One of our friendly technicians can come and help install your services. Check out our installation video.
How long does installation take?
This depends on your property and the service you're taking. If you have Virgin Media connection points in your new home it won't take long. However, if your new home has never had our services or you want to move the connection point, it usually takes up to 2 hours.
Do I need to take my equipment with me?
Yes, take all your equipment with you.
Will my equipment work at my new address?
Yes, as long as your new home is in a Virgin Media cabled area and you're not changing or upgrading your equipment. If you've got a Virgin TiVo box, it'll keep all your recordings. And if you've got a Super Hub, it'll remember all your WiFi settings.
What if I want to change my installation date?
If you need to change your install date, call our team on 150 from your Virgin Media phone or mobile, or 0845 454 1111ˇ from any other phone and select option 3. Just make sure the person you speak to knows about changes to both your disconnection and your install.
---

---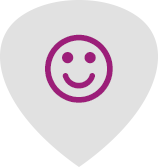 After lifting those heavy boxes and unpacking all that stuff, you've earned a cosy night in. So sit back, relax and enjoy the match, a movie or a spot of gaming!
Oh, and we'll even give you £50 off your next bill if you get the people who moved into your old home to take our services (and they'll get a £50 credit too). Just go to refer a friend and enter their details. Or ask them to quote your account number when they call our team. Just dial 150 from your Virgin Media home phone or mobile and select option 5, or call 0845 141 0111ˇ from any other phone..
I've got questions!
How much does it cost to move my services?
There's no installation charge for moving your services (it's normally £49.95). But we do charge £20 to cover our administration costs.
Do I need to pay an early disconnection fee?
Not if you take your Virgin Media services to your new address. If you decide not to take your services, or if they're not available at your new address, we do have to charge an early cancellation fee – sorry.
Would it just be cheaper to join as a new customer?
No. You can still take your pick from the same great offers as new customers, plus you get to keep your recorded shows, email addresses and eBilling information. We also don't charge an installation fee (normally £49.95).
Is it true I can get £50 credit at my new address?
Yes! If the person moving into your old home takes our services, we'll give them £50 credit and you £50 credit. The same applies if you recommend any friends and family to Virgin Media too. Not bad, eh?
What happens with my bill when I move home?
The final bill for your old address is sent to the new address (as it will be produced after you've moved). For everything you need to know, check out our bill explainer.
---
Teething trouble? No worries
Remember we're here to help. So whenever you need, just give us a shout. Below you'll find some handy links to help you out. Happy moving!

Service checker
This is the place to go to check your service status, and to get the low down on any faults in your area.
Help
Need help? You'll find answers to your questions, plus trouble-shooting hints and tips right here. Bamboozled by your equipment? Our range of 'Helping Hands' videos will clarify loads of stuff for you.

Ask the community
Our online community is a great place to get Helpful Answers and cool tips from other Virgin Media customers. Join in the fun!
ˇFor details of how much it costs to call our team from a Virgin Media home phone, visit virginmedia.com/callcosts. Call costs from other networks and mobiles vary.
Refer a Friend: To receive the Refer a Friend credit of £50, you must be an existing Virgin Media Cable customer (offer not available to Virgin Mobile or National Customers) and your friend must not have been an existing customer for at least 6 months. Maximum of 25 Refer a Friend referrals per calendar month. A referral via our online Refer a Friend site will only qualify for the offer if your friend signs up when contacted by our Refer a Friend team. Credits are applied to both accounts after any money back guarantee period has passed and the friend pays their first bill. Cannot be used in connection with any other offer. Registered office address: Media House, Bartley Wood Business Park, Hook, Hampshire RG27 9UP. Registered in England and Wales No. 02591237
The legal stuff
Prices may change at any time during the contract.
Service availability: SERVICES AVAILABLE IN VIRGIN MEDIA CABLED STREETS ONLY. Subject to survey, capacity and credit check, minimum term contract applies, check basket for details. If you cancel during the minimum contract period you will incur an early disconnection fee.
Installation: Installation charges apply (starting from £49.95 for standard install).
Payment: If you prefer not to pay by Direct Debit, you will incur a monthly payment handling fee of up to £5, made payable to Virgin Media Payments Ltd. If you would like paper bills, the fee is £1.75 a month for cable and £1.50 a month for mobile. Further terms and conditions apply. See sections below for more Legal Stuff.
**Please note standard charges apply, please check with your network operator for rates.
***For details about how much it costs to call our team from a Virgin Media home phone, visit virginmedia.com/callcosts. Call costs from other networks and mobiles vary.