The ins and outs (and abouts) of Mobile Broadband
Now you can enjoy the wonders of the web without being stuck in the house or having to look for a WiFi hotspot. With Virgin Mobile Broadband you can watch videos, listen to music, send emails and check Facebook wherever you lay your laptop. And all you need is our Wireless Mobile WiFi device – which allows you to wirelessly connect up to 10 other devices at a time.
It's perfect for spur of the moment fact checking, emergency emailing and great if you happen to be between home broadband contracts.
Your broadband, where you want it
Tick With a coffee in a cafe

Tick Relaxing in the park

Tick Hot desking
Tick In the car

Tick On public transport

Tick At your client's offices
Your easy and instant WiFi hotspot
It may sound like voodoo, but it's really quite straightforward how your Wireless Mobile WiFi device works. It's actually a tiny portable wireless internet hub that uses a mobile phone signal to connect to the internet. And because it's wireless, you can connect up to 10 devices at the same time, such as your laptop, tablet, desktop computer or mobile.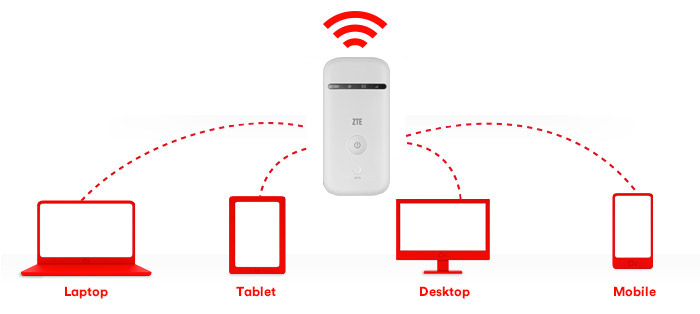 Techs and specs
Here's the low down on our Wireless Mobile WiFi device.

Features and benefits
Your Wireless Mobile WiFi device is a ZTE MF65M which:
Creates a 30ft hotspot around you for up to 10 devices
Allows devices to connect from their wireless network list (the same way you'd connect to any WiFi)
Doesn't require any USB ports
Doesn't require any cables
Doesn't need extra drivers, software or system requirement issues
Supports download speeds up to 21Mbps and upload speeds up to 11Mbps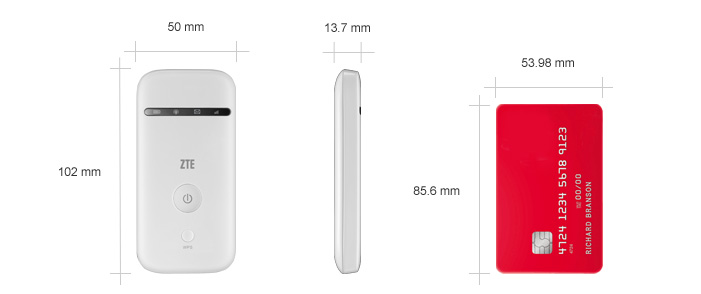 Compact and portable
You can take your Wireless Mobile WiFi device with you wherever you go…

Up to 100 hours battery power on standby
Up to 4 hours continuous browsing
Pocket-sized at 102mm x 50mm x 13.7mm
Lighter than most mobiles at just 71g
Our Mobile Broadband kit
When you sign up for the Virgin Mobile Broadband you will receive...